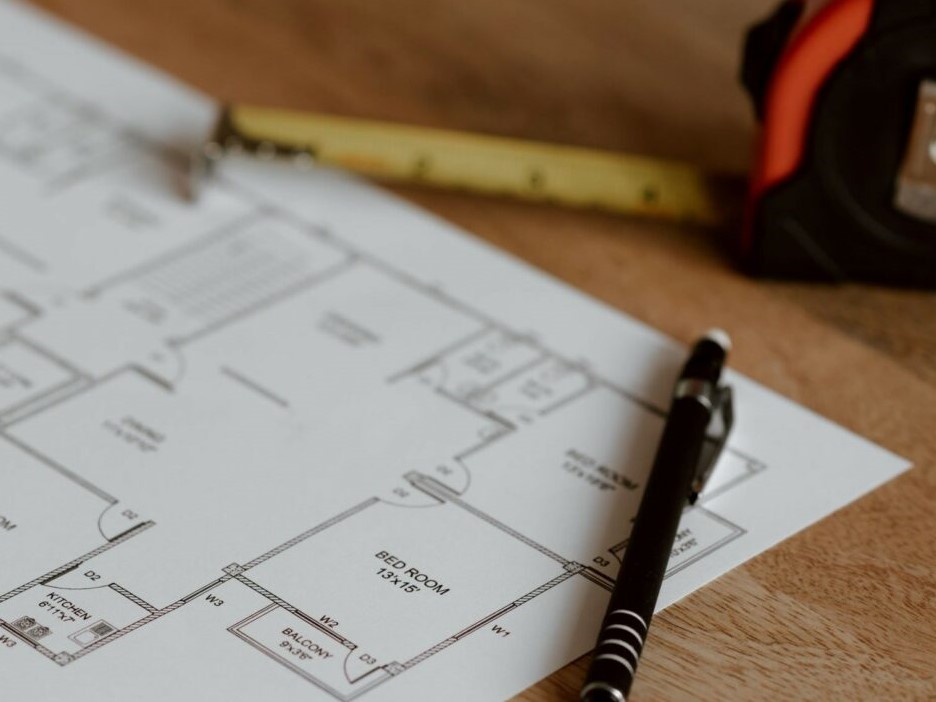 Performance insulation solutions that exceed upcoming Building Code changes
On November 3, 2022, New Zealand Building Code changes will be among the first steps the construction sector is taking to help New Zealand achieve net Carbon Zero by 2050. Expol supports these changes, and has provided a guide to the changes and the products they manufacture that will exceed the new minimum requirements.
Note: It is important that Designers/Specifiers check calculation methods before choosing the correct insulation.
For housing and small and large buildings, the focus is on energy efficiency. The new codes increase the minimum insulation R-Values by approximately 40% over previous minimums. These changes to roof, window, wall and underfloor insulation requirements are aimed at reducing the energy needed for heating residential homes and workplaces.
The new building code is also expanding the number of climate zones in New Zealand from three to six, allowing insulation requirements to better reflect the different temperatures experienced in each zone.
Expol is committed to the environment, and supports these changes that will lead to warmer, healthier, drier homes.
Following is an outline to the new R-Values, when they will take place, and what Expol is doing to ensure the supply of New Zealand-made insulation products which meet the new code requirements.
What are the six new climate zones?
The new climate zones are best shown on the map below. They follow local government boundaries.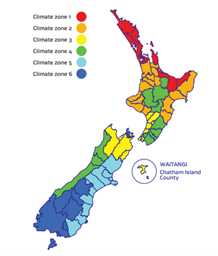 What are the new R-Values?
The new R-value minimums vary between climate zones and building elements. These R-values represent a 40% reduction of the energy needed for heating
compared to the minimum standard. See an overview in the chart right:

New Generation Expol products explained:
Expol's new generation products have been consciously designed and engineered to support the company's commitment to the environment by using recycled content in its products and giving their clients the ability to recycle product waste.
Roof
The minimum amount of roof insulation has been doubled. This is one of the simplest and most cost-effective ways to boost thermal performance. Expol will be
manufacturing ThermSlab and Platinum Board to meet these standards. Both of these products and their waste can be recycled.
Walls
The requirements for walls in residential building are mostly unchanged. The settings will still allow current framing practices to be used, and designers will still have options to consider the amount of timber on the total insulation value of the wall. Expol manufactures ThermSlab and Platinum Board to meet these standards. Both of these products and their waste can be recycled.
Underfloor
The requirements for timber underfloor and concrete slab-on-ground floors have been split. These different floor options allow further time for slab-on-ground
construction practices to change. Expol has developed R2.5 and R3.1 to meet and exceed the requirement in the six new climate zones.
Under Timber Floors Expol R2.5 is a new standard in underfloor insulation which meets the new building code standards in climate zones one to three.
Available in four widths of 360, 410, 470, and 560mm. At 100mm thick, the new panel design has a bevel edge and variable concertina cuts. It contains recycled
content, and can be recycled at the end of its life.
Expol Black R3.1 is a premium underfloor insulation solution infused with Graphite. Expol Black R3.1 exceeds the new building code standards for climate zones four to six. Now 24% more efficient, this new panel design is 40mm thicker, and can be recycled at the end of its life.
Under Concrete Slabs
Expol has several products suitable for under concrete slab insulation. Below are the densities and thicknesses that we recommend to achieve the desired
R-Values.
H Grade 24kg/m3 Thermaslab 60mm R 1.67 75mm R 2.08 100mm 2.78
VH Grade 28kg/m3 Thermaslab 60mm R 1.71 75mm R 2.20 100mm R 2.86
SLABX200 Insulation 60mm R 1.81 75mm R 2.20 100mm R 3.0
SLABX200 is a new generation, highperformance Expanded Polystyrene Board specifically designed to deliver high compressive strength and improve insulation under concrete slabs. At R3.0 at 100ml, SLABX200 exceeds new building code standards across all climate zones.
Slab Edge Insulation XPS
Expol has a slab edge insulation solution to also increase R-Values of slabs to meet the new insulation standards.
The product is manufactured from XPS (Extruded Polystyrene) and is highly moisture resistant — it can be placed up against the boxing and poured in-situ or fixed to the slab once the boxing has been removed.
In both cases the insulation will need to be plastered to finish the slab.
Call or email Expol's Technical Manager — phone 0800 86 33 73 or email tech@expol.co.nz