EXPOL CONCRETE FLOOR EDGE INSULATION
EXPOL X ( XPS – Extruded Polystyrene ) provides high-performance perimeter insulation for concrete slabs.  Made from environmentally safe extruded polystyrene (XPS), EXPOL X ( EPS – Extruded Polystyrene ) improves the insulation performance of a building when used in conjunction with EXPOL concrete floor insulation.
Quick and easy-to-install, EXPOL X ( EPS – Extruded Polystyrene ) is also easy to retrofit to existing concrete floor edging.
Download Technical Data Sheet
The Product thickness is 30mm (+ plaster) and can achieve a respectable R-value of 1.0 to greatly improve your overall construction rating
The EXPOL concrete floor edge insulation system has been designed to include the 'Z' flashing to guarantee water tightness.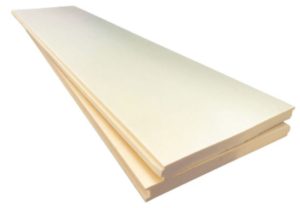 EXPOL X for Concrete Floor Edge Insulation
Cut to fit
Fix to the edge of the concrete slab with SabreFix Adhesive and mechanical fixings
Plaster to finish

Sabre Fix Construction Adhesive
Sabre Fix is an advanced single component polyurethane-based construction adhesive. This powerful adhesive is developed especially for the construction industry and will bond most types of construction materials including timber (damp and dry), concrete, plasterboard, polystyrene and many other porous and non-porous substrates.
SPECIFIERS, ARCHITECTS AND PLANNERS
For all specifying information, relevant product testing and other detailed information please refer to MasterSpec documents on www.masterspec.co.nz or contact EXPOL for an electronic copy.
BRANZ APPRAISAL
EXPOL R1.4 UnderFloor has a BRANZ appraisal.
See BRANZ certificate number 256.
INSULATION STANDARD
All EXPOL timber floor insulation solutions comply with the Australian and New Zealand Standard AS/NZS 4859.1:2002.
MANUFACTURING STANDARD
All panels have a yellow stripe down one edge to confirm compliance with manufacturing standard AS 1366 Part 3 1992 for SL grade.
For further, detailed information on all products contact EXPOL 0800 86 33 73