EXPOL R1.8 BLACK UNDERFLOOR INSULATION
EXPOL R1.8 Black Underfloor Insulation is Expanded Polystyrene panel designed to fit between the joists under a timber floor. Infused with graphite it is 35% more efficient than EXPOL R1.4 and is designed to be used in extreme environments. It is ideal underfloor insulation for your personal or rental property.
Changes to New Zealand's Residential Tenancies Act mean landlords need to ensure all tenanted properties have proper floor and ceiling insulation. EXPOL UnderFloor insulation meets and exceeds the requirements of the Act. For an insulation product to provide adequate insulation to a rental property it needs to have a minimum insulation value of R1.3 – EXPOL Black insulation exceeds this with a value of R1.8.
EXPOL UnderFloor R1.8 Black is available in 4 convenient joist widths 360, 410, 470, 560 (mm). Quick and easy to install it is long-lasting insulation that creates a warm, dry home which is healthier to live in and costs less to heat.
It can be used on new and existing timber floors and fits snugly between timber floor joists to stop drafts and damp from entering.
EXPOL UnderFloor R1.8 Black Insulation is made of rigid polystyrene infused with graphite, so it won't sag over time. It is also flame retardant, vermin resistant and helps reduce noise from timber floors.
The benefits:
35 % more efficient that EXPOL R1.4 White Insulation
Does not contains recycled content but can be easily recycled
Flame retardant
Rigid
4 Joist measurements; 360, 410, 470 & 560mm
Easy to Install with concertina cuts which allow for compression of up to 20 mm
Resistant to moisture
No nutritional value to vermin, birds or animals
Four standard widths to fit between most standard joists
Ideal for both retro-fit applications and new floors
It is used as an insulation solution for:
EXPOL UNDERFLOOR INSULATION VIDEOS

What is the difference between EXPOL R1.8 and EXPOL R1.4
The R in the name stands for the R Value, Black is R1.8 and White is R1.4. Both products deliver R Values that meet and exceed building regulations however EXPOL R1.8 BLACK is used where the environment is extreme.
EXPOL R1.8 Black is 35% more efficient than EXPOL R1.4 White because it incorporates graphite in it's manufacturing process. The obvious visual difference is R1.8 is black and R1.4 is white.
The R in the name stands for the R Value, Black is R1.8 and White is R1.4
What is R-Value?
An R-Value is a rating which measures how well insulation can resist heat flow. 'R' stands for thermal resistance.
R-Value level depends on a number of things such as the type
of material, its density and thickness.
Higher R-Value = Better insulation.
Whay happens to EXPOL UnderFloor Insulation in a fire?
EXPOL UnderFloor insulation is flame retardant and will not support a fire.
Doe EXPOL UnderFloor Insulation give off any toxic fumes?
The level of toxicity of EXPOL UnderFloor insulation in a fire is no greater than that of burning timber.
What if my sizes differ from EXPOL UnderFloor Insulation standard sizes?
The flexi-cut edges of EXPOL UnderFloor insulation panels allow the panels to be adjusted to varying floor joist spacings.
Do I need to use fixings when fitting it under a new floor?
Yes. When fixing from the top of the joist a nylon fixing called an EXPOL Saddle Joist is placed flush with the top of the joist, this ensures the panel sits flush with the underside of the floor.
Usually a maximum of two fixings are placed diagonally per panel. These can be purchased when you purchase the underfloor.
Do I need to use fixings when installing it under an existing floor?
Yes – It is recommended to use EXPOL L Brackets as this ensures that if there is any movement of the house foundation that the underfloor stays secure. If you are using it on a pole house or a floor which is exposed to wind then it is a must to use. L Brackets can be purchased from where you purchase the underfloor.
How is EXPOL UnderFloor packed and how many meters comes in a packet?
EXPOL UnderFloor insulation is plastic wrapped and delivered to your merchant in bundles of approximately 6 square metres. Each bundle includes 1 metre of EXPOL WireGuard.
EXPOL Installation Components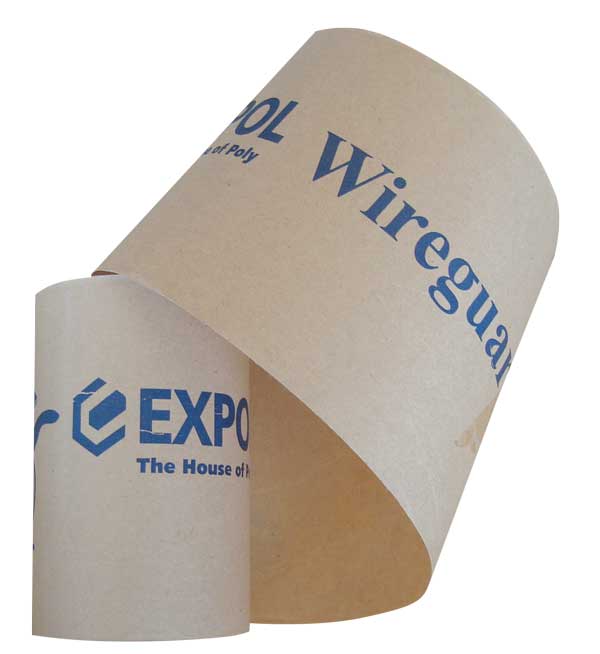 EXPOL WireGuard
Where EXPOL R1.8 is exposed to electrical cables us EXPOL WireGuard  a waxed paper strip  to separate exposed electrical cables from the EXPOL R1.8 insulation. Expanded Polystyrene in some cases reacts with the plasticiser and degrades the elastic properties of some electrical cables over a prolonged period.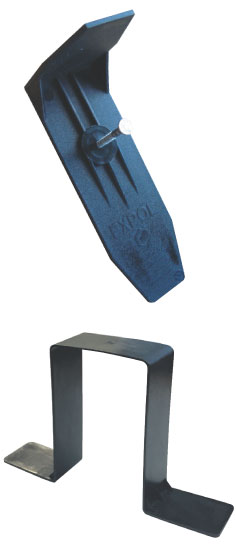 Fixings
There are two types of fixings specific to existing floors and new floors. They are made from non-corrosive nylon and are used to fix the EXPOL panels in place.
Existing Floors: EXPOL L Brackets are designed to fit under the panel (supplied with stainless steel nails).
New Floors: EXPOL Joist Saddles are designed to slip over the joist to support and secure the panel.

Sabre Fix Construction Adhesive
Sabre Fix is an advanced single component polyurethane-based construction adhesive. This powerful adhesive is developed especially for the construction industry and will bond most types of construction materials including timber (damp and dry), concrete, plasterboard, polystyrene and many other porous and non-porous substrates.