EXPOL EX1300 Hot Wire Polystyrene Cutter
EXPOL Hot Wire Polystyrene Tuff Pod and GeoFoam EX1300 cutters are a portable solution for cutting polystyrene on building sites. Rather than using a hand saw that creates mess and can be detrimental to the environment the EX1300 allows the user to achieve accurate and clean cuts through polystyrene leaving little or no mess.
The EX1300 easily cuts Tuff Pods and GeoFoam to different sizes and enables you to cut channels and groves through the Tuff Pods and GeoFoam to accommodate plumbing services.
Model: EX-1300 Transformer
The EX-1300 transformer has been designed to heat a hot wire at a specific length of 1300mm from terminal to terminal. Only EX CC 0.7mmc copper coated cutting wire can be used with this transformer.
The use of unsuitable cutting wire may cause damage to the transformer.
Order EX CC 0.7mm cutting wire from EXPOL Ltd as required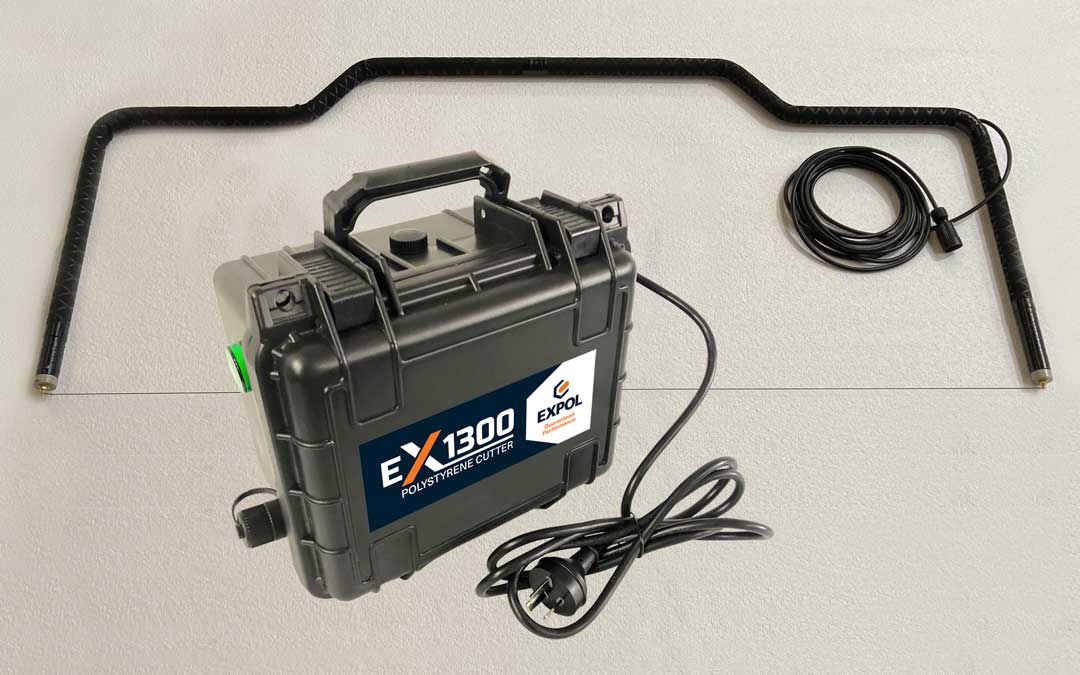 EX-1300 Cutting Bow
The EX-1300 aluminium bow is made from 25mm diameter thick wall tube and stands up to knocks on building sites. It has an insulator at each end and a 5 metre lead that plugs into the transformer.
Caution: Only a qualified electrician should wire up this transformer to the aluminium cutting bow.
Care should be taken to prevent injury as the wire reaches very high temperatures.
This transformer is not waterproof and should always be protected from adverse weather conditions.
Attempting to use shorter or longer lengths of wires will activate the circuit breaker. This will need to be reset once the correct length of wire has been installed. Incorrect length of wire may also damage the transformer.
Disclaimer: EXPOL Ltd. will not be held responsible for any injuries caused to persons nor will EXPOL Ltd be liable for any costs incurred through damage caused to property as a result of negligence or improper use of this transformer and or hot wire pod cutting bow.