Which NZ Company Has Products That Work Hard From The Foundations To The Roof?
Which NZ Company Has Products That Work Hard From The Foundations To The Roof?
EXPOL have been delivering solid insulation and lightweight polystyrene construction solutions to the New Zealand  building industry for over 40 years. From the foundations right up to the roof, EXPOL has the right solution for every part of your project.
Our solutions work from the ground up and include GeoFoam, Tuff Pod, XPS, StyroDrain, Quickdrain, ThermaSlab, Platnium Board, Emperor Panel, UnderFloor and Garage Door Insulation.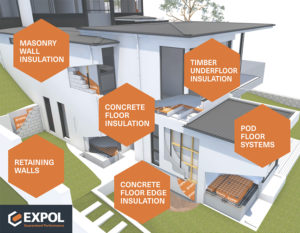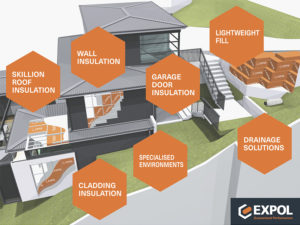 CLOSED LOOP RECYCLING
A care and responsibility for the environment has led EXPOL to the development of a closed loop full circle recycling process. Nationwide EXPOL has recycling units in each of its 7 manufacturing facilities.
Product development teams are constantly working on developing new products which use recycled polystyrene. Recent products that have entered the marketplace are QuickDrain the no scoria drainage solution and StyroDrain which is made up of 100% recycled polystyrene and used to protect the waterproofing membrane on retaining walls whilst acting as a medium to improve drainage.
For residential or household polystyrene recycling EXPOL has introduced the EXPOL Polystyrene  Residential Recycling Cube initiative where consumers can drop off their residential polystyrene waste in selected hardware stores nationwide.
EXPOL also run a recycling programme for building or commercial polystyrene waste.
All it takes is a call to 0800 86 33 73 to discuss how they can help – easy done!