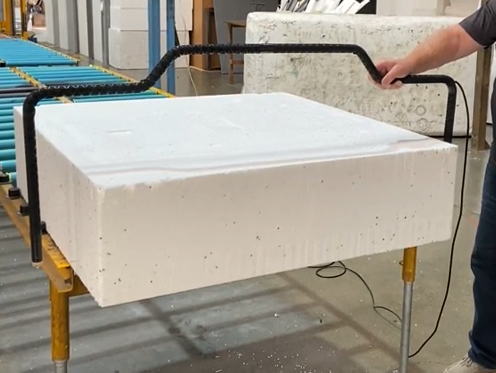 The EXPOL EX1300 Hot Wire Polystyrene Cutter
Transportable, No fuss, clean and quick Polystyrene cutting on your site.
Always keen to create better solutions for the building site and reduce impact on the planet, we have come up with a new portable solution for cutting polystyrene.  The EXPOL EX1300 Hot Wire Polystyrene Cutter achieves accurate, clean cuts through polystyrene leaving little or no mess.
Far superior to using a hand saw which can create dust which is detrimental to the environment the EXPOL EX1300 Hot Wire Polystyrene Cutter is transportable and designed to be used on site. The EX1300 easily cuts EXPOL Tuff PODS , SLABX200 and GeoFoam to different sizes and enables you to cut channels and groves to accommodate plumbing services.
The cutter is made up of two parts:
EX-1300 Transformer
The EX-1300 Transformer has been designed to heat a hot wire at a specific length of 1300mm from terminal to terminal.  It is lightweight and totally portable to use onsite.
EX-1300 Cutting Bow
The EX-1300 aluminum bow is made from 25mm diameter thick wall tube and stands up to knocks on building sites.  It has an insulator at each end and a 5 metre lead that plugs into the transformer.
Find out more about the EXPOL EX1300 Hot Wire Polystyrene Cutter here, contact us on 09 634 3449 or email Wayne on tech@expol.co.nz