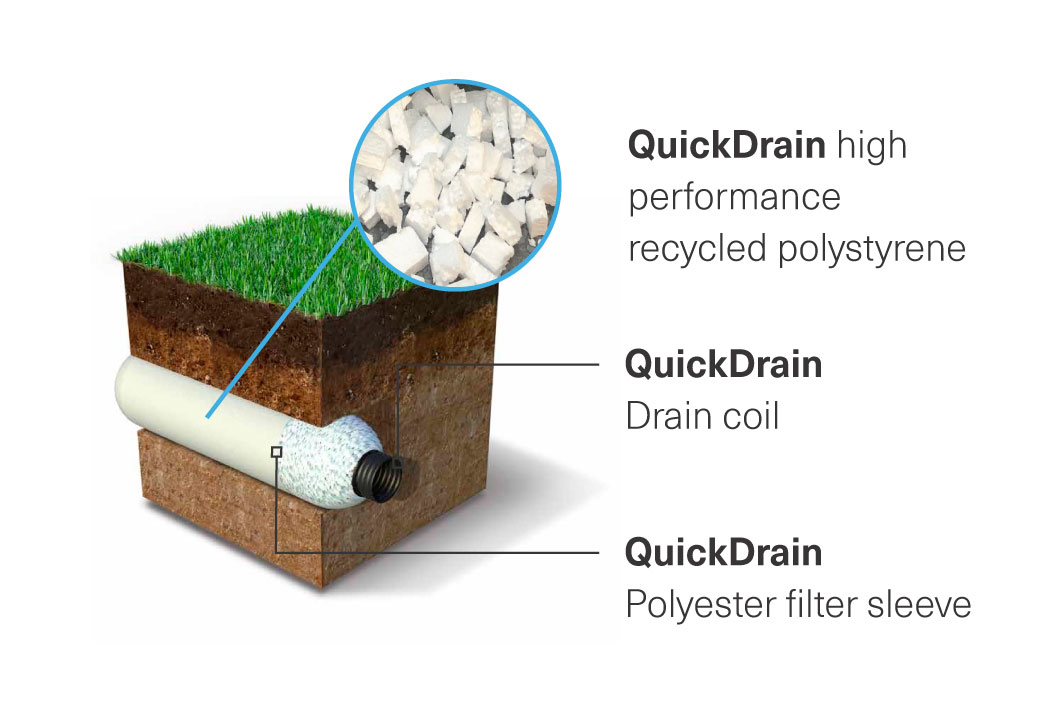 COULD OUR NO-SCORIA DRAINAGE SOLUTION BE YOUR ANSWER?
Rainy winter weather is threatening. You need to get your drainage problems sorted – quickly. Does that mean you'll be breaking your back, barrowing truckloads of scoria around your property? The good news is there's a better way. EXPOL QuickDrain is a no-scoria, light, and easy-to-install drainage solution. Chances are it's the easiest, most-effective answer to your drainage problem.
Yvonne Saunders says EXPOL QuickDrain's scoria-free system and light weight were just two of the reasons her family chose it to tackle the drainage around the lower part of their Titirangi section last October.
The Saunders' drainage problem
The lower part of the Saunders' section had poor draining soil. Yvonne says "it meant that part of the garden was only useable for two months a year. In winter, you could walk down there and find yourself a foot deep in mud."
No more scoria
The Saunders had recently built a retaining wall incorporating scoria-based drainage. "The time and the resource we put into moving and laying scoria was prohibitive," says Yvonne. "We knew that we didn't want to do that again. EXPOL QuickDrain delivered the perfect solution."
Quick and easy installation
On the Saunders' project, Yvonne and her husband dug trenches and laid 40 metres of EXPOL QuickDrain themselves over the course of a weekend.
EXPOL QuickDrain incorporates recycled polystyrene. This replaces the need to use scoria and creates a drainage solution that is incredibly light to transport and handle. These factors mean that when installing EXPOL QuickDrain, instead of a traditional drainage system, the process is faster and easier.
The recycled polystyrene and the high-density moulded polyethylene pipe, with a corrugated profile wall and slots cut at the bottom of the corrugations and spaced around the circumference, give high crush resistance, flexibility and lightness.
Yvonne says, "it was so easy to install because EXPOL QuickDrain is light and you can just cut it to the length you want and then easily reseal the sleeve. And where we needed a longer length, we were able to join two lengths together with the EXPOL joiner. If we can do it, anyone can."
The result
EXPOL QuickDrain combines recycled polystyrene aggregate with HDPE pipe and a polyester sleeve, providing excellent drainage performance, filtration and longevity. It comes completely assembled in 2.5 metre lengths and includes an EXPOL Joiner.
Installation is as simple as dig, drop and fill.
The product has helped make a previously unusable part of the Saunders' section a place where the family's children love to play. Yvonne says they noticed the drainage improvement quickly. "We've got a trampoline down there now," she says, "and the kids have a great time jumping down in that part of the section."
Make EXPOL QuickDrain the answer to your problem
QuickDrain is available at hardware stores nationwide. For more information, take a look here.