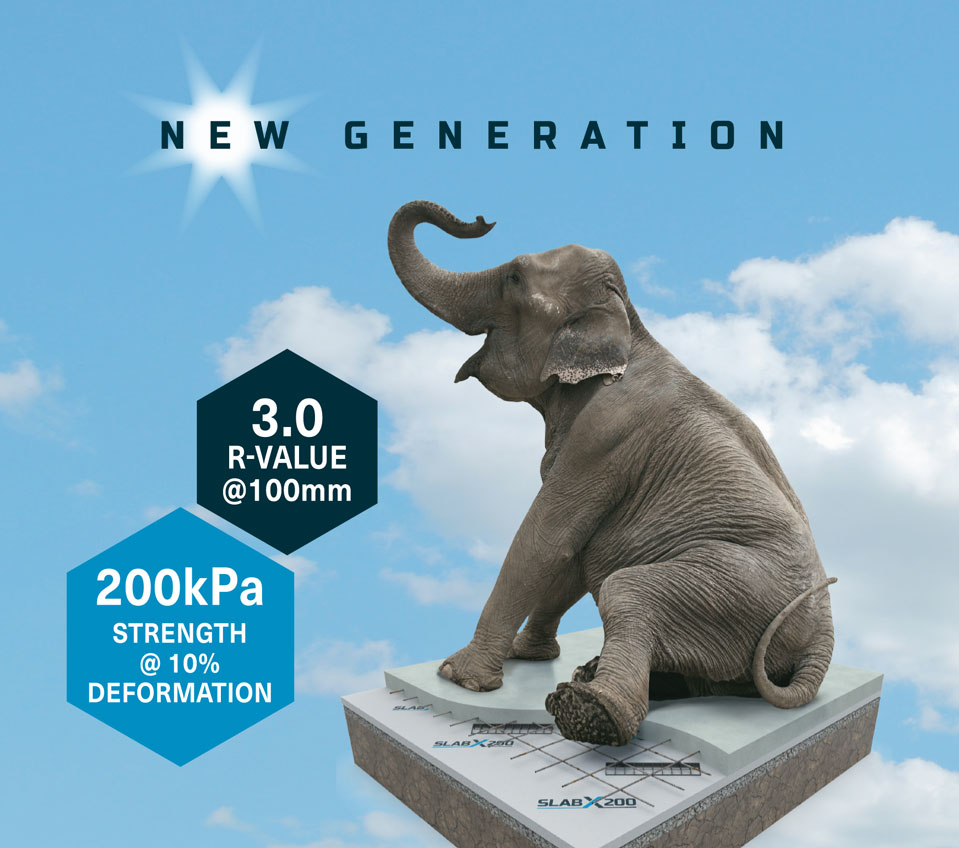 EXPOL's NEW GENERATION PRODUCT – SLABX200
EXPOL's NEW GENERATION PRODUCT – SLABX200
Kiwi innovation leading the way in concrete slab insulation
A new generation of Expanded Polystyrene Board insulation has arrived. SLABX200 is specifically designed to deliver high compressive strength and improve insulation under concrete slabs.   Developed by trusted Kiwi insulation experts EXPOL, this exciting new innovation has quickly become the product of choice for specifiers and others in the construction industry.
Why do I need to insulate the concrete slab?
Slab insulation is important not only to save on energy bills for future owners and tenants, but also to improve comfort. Insulation will reduce heat loss and make the slab easier to heat.  It offers a layer of protection against moisture and will provide a thermal mass to regulate temperatures.
If embedded floor heating is incorporated in a concrete slab-on-ground, the slab must be insulated so that heat from the slab is delivered up into the space above and not lost to the exterior and ground below.
What makes SLABX200 different?
We chatted to Wayne Watson a Structural EPS and GeoFoam Consultant at EXPOL to see what makes SLABX200 different.  Wayne told us that due to its compressive strength rating of 200Kpa there is no comparable product on the market.  He states "SLABX200 is specifically designed for insulating concrete slabs.  It has a rating of 200kpa at 10% compression or 20 ton per square meter.  It's high performance specs are designed to give Engineer's peace of mind so that they can recommend this product with 100% confidence".
The team at EXPOL recognised that there was nothing on the market that offered a cost-effective yet high performance solution to concrete insulation.  So set about to develop a product with New Zealand residential and commercial projects in mind.
The durable nature of SLABX200 means that it won't degrade over time, keeping its integrity for the life of the structure.
Due to the lightweight nature of Expanded Polystyrene the product is also easy to handle and install making quick work of slab insulation on site.
How does this product compare to Healthy Homes standards?
The Healthy Homes insulation standards across New Zealand states than underfloor insulation should have an R-Value of 1.3 or greater.  With several thicknesses available SLABX200 ranges from an R-Value of R 1.5 at 50mm thickness through to an impressive R6.0 at 200mm thickness.  Therefore all thicknesses offer R-Values over and above the standards to ensure healthy and efficient homes.
How does this product work in my sustainable building project?
The team at EXPOL are committed to the environment.  In a true closed loop process 100% of manufacturing waste is recycled in their 7 recycling plants nationwide.  Expanded Polystyrene offers great eco credentials and at the end of a products life it can be turned into other EXPOL products.
The high performance of the SLABX200 product also ensures that your building project is sustainable to heat and cold and therefore leading to less energy consumption over the life of the building.
If you'd like to learn more about the SLABX200 product the team at EXPOL are happy to have a chat.  Visit our website on www.expol.co.nz or give Wayne Watson our Technical Manager a call on 0800 86 33 73.